Eden® by Agrono-Tec

is a truly remarkable new seed mix that actually repairs itself.
Because we look for solutions to the problems that face the typical lawn, we developed a new concept in heat, drought and damage tolerant turf called Eden®. This truly remarkable new seed mix is easy to maintain, has a beautiful color and actually repairs itself.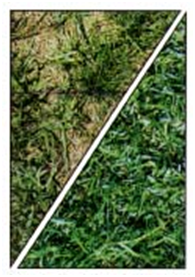 We know that dogs, sports, parties and play can be tough on a lawn, and we also know that it has to look good without spending a lot of time, effort and water on it. So we've developed a grass seed mix that remarkably breaks all the conventional rules of ordinary tall fescues, because it does more than fescue alone can ever do.
The key to this mix is that each component in Eden® was selected for the unique strengths it brings to the mix, as well as how they've been specifically bred to compliment each other, especially the self-mending element.
All of these qualities make this mix the most genetically diverse and adaptable grass seed you could ask for!
It's amazing how well built and hardworking Eden grass seed mix is. It's good looking, tough, self-repairing and perfect for a tough, drought-type climate. Also, it's remarkable how much of an advantage this lawn has when working with the demanding wear and tear that home lawns with dogs and children, parks, sports fields, commercial landscapes and sod production can put out.
Discover the unparalleled freedom, beauty and wearability of Eden® Grass Seed mix. Because there's nothing more appealing than a remarkably smart lawn with its own built-in repair kit.
Attributes of Eden Grass Seed:
Deep Rooted turf

Self repairing

Good salt tolerance

Moderate to soft texture

High density

Competes well against weeds

Low thatch accumulation

Low-moderate fertility requirements

High disease resistance

Fast establishment

High heat tolerance

Excellent shade tolerance

Sod is available in select markets.
Seeding rate: 10-12#/1000 sq ft
If you desire to make this product into a self fertilizing lawn add microclover by using the connotation of M for example EdenM
So when it comes to selecting a beautiful and strong lawn with its own built-in repair kit, the only choice is Eden®!